Deuel, Timothy and Karla – Papua New Guinea
Tim became the Missions President at our local church in 1997. Over the next 15 years he led Work & Witness (W&W) trips to Africa, Guatemala, Fiji, Peru, & Costa Rica. Karla and their 2 daughters were also able to participate. During those years God spoke to Tim and told him he was preparing them for full time missions.
Karla was called to the mission field as a little girl. In 2008, when they were members of a W&W team to Papua New Guinea (PNG) and thoroughly enjoyed our time at Kudjip Nazarene Mission Hospital (Kudjip). We were preparing to be missionaries to Fiji when we were asked to come to Papua New Guinea instead. We looked back to the trip we made to PNG, and realized the goodness of God to us, then asking God to give us His love for these people, since our hearts were in Fiji, and He did.
Tim retired with 30 years as a lineman and Karla left a teaching position in the hospital lab, packed everything into 6 suitcases and have now served in PNG for 5 years.
We have two married daughters. Nicole and her husband Andrew graduated from Multnomah Bible College with theology degrees, and now live in Tokyo, where Nicole teaches at an International Montessori School. Patti is a children's Oncology Nurse and her husband Ben, is an ordained Pastor to a College group in Fresno, California.
Kudjip is our first place of full-time service. One of our greatest joys here, is working with our PNG brothers and sisters in Christ. Tim works with contractors that are Nazarene church members, traveling around the country of PNG encouraging, teaching and administrating property management to the District leaders. Tim also travels to a remote mountainous area that was first evangelized in the late 1960's and is refurbishing the mission house, so that the doctors can travel there and care for the Coban people for the first time on a regular basis at the new Medical Clinic. Karla works part-time in the hospital lab, and also teaches Microbiology to the first year Nursing Students. Karla also works with the twelve church districts, and their leaders, gathering the paperwork for church stats that are generated at the District Assemblies.
Dooley, Scott and Gail – Papua New Guinea
Scott and Gail Dooley are global missionaries for the Church of the Nazarene. The Dooley family has served at Kudjip Nazarene Hospital since 2003.
Scott is a Family Medicine doctor and became the hospital administrator in 2010.
Gail is a nurse and helps in surgery. She has also home schooled the children at different times.
They have three girls: Allison, Emma, and Olivia, who enjoy school, tubing on the local river, and sometimes help with the storeroom or giving out donated gifts.
Crouch, Mark and Esther, and Anna (2009), Levi (2011), Lucy (2014) and Gabe (2017) – Papua New Guinea
We felt the call to medial missions separately during high school/ early college years, and after getting married God continued leading our family overseas. He brought us to Kudjip in 2014 a year after Mark finished his Family Practice Residency. Mark trained at In His IMAGE in Tulsa, OK.  Esther completed her RN training but currently stays home with the children and homeschools. We are so thankful for the opportunity to serve here in the highlands of PNG!
Goossens, Randy and Joani – Papua New Guinea
Greetings from Papua New Guinea (PNG)!
We are the Goossens Family: Randy, Joani, Emma, Lexi and Ethan. We have been serving in the Melanesia Field Office at Kudjip Hospital Station since 2011.
Randy and I both grew up in Washington State. I attended Eastern Nazarene College for one year and then graduated from Azusa Pacific University with a degree in Accounting. Randy completed training in Architectural CAD and then went on to work for a manufacturing company for 13 years.
We both come from Christian families and I am blessed with a heritage that includes a passion for Missions. Randy and I began our involvement in Missions through Work & Witness; first to Brazil and then to Fiji. We were also involved in a local mission of sorts through Foster Care for almost 4 years.
In 2010 we sensed God calling us to something new and through a series of amazing God-incidences we set off to serve in Papua New Guinea as Mission Corps volunteers. During these 2 years in PNG God called us to step into longer term Missionary service. In August 2013 we returned to PNG as Specialized Assignment Missionaries.
I am the Field Treasurer for the Melanesia and South Pacific Fields of the Church of the Nazarene. Randy's assignment includes a wide variety of special projects in support of the Field Strategy Coordinator and Kudjip Mission Station.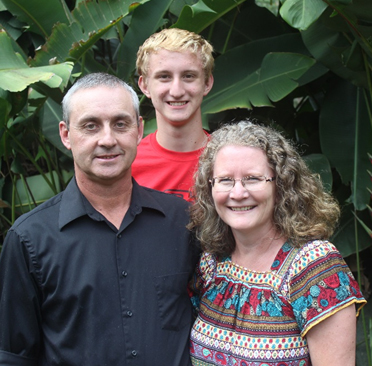 Hartwig, Earl and Cathy – Papua New Guinea
Earl and Cathy Hartwig and their son Caleb are missionaries with Reach Beyond, on loan to the Church of the Nazarene since 2012. They are serving at the Nazarene Hospital located at Kudjip, Papua New Guinea.  
Earl was the project manager for the 250 KW hydroelectric project for the hospital, completed May 2014.  Following that, he was the project manager for the housing and water project which included construction of 29 family dwellings and installing a potable water system for the Kudjip compound.  He is now heading up the construction project for the expansion of the hospital.  The expansion project includes nine additions or separate buildings.  This hospital expansion project will be completed the end of 2020.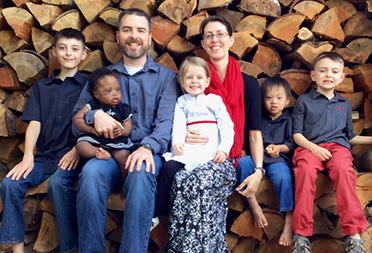 Mason, Nathan and Becky – Papua New Guinea
Nathan first became interested in medicine during middle school.  Following three mission trips in college he knew God was leading him towards medical missions.
Becky felt called to the mission field as a child and had her heart drawn to helping orphans with disabilities following a summer mission trip during college.
We lived in Israel where Nathan attended a medical school which focused on International Medicine.  After completing residency in the US he started practicing Family Medicine.  Throughout school, training and practicing medicine we were blessed with five children.  Our oldest three are biological and the youngest two were adopted and have Down syndrome.
In January of 2015 we heard about the need for doctors in Papua New Guinea (PNG).  As we began to look into the possibility of our family meeting this need, every door we thought would be closed was opened and we moved to PNG in February 2017.
McCoy, Bill and Marsha – Papua New Guinea
Bill and Marsha McCoy are global missionaries for the Church of the Nazarene in Papua New Guinea.
Bill is a Family Practice physician. He received the B.A. degree from Point Loma Nazarene University in San Diego, California, in 1976. He graduated from the University of California Medical School in San Diego, California, in 1980.
Marsha also received the B.A. degree from Point Loma Nazarene University in 1976.
Before their current assignment, the McCoys served as Nazarene missionaries at the Raleigh Fitkin Memorial Hospital from 1985-1993. They are currently assigned to Kudjip Nazarene Hospital in Papua New Guinea where they have served since 1996.
Bill has served as the Volunteer Coordinator and Medical Director and the Hospital Administrator. He is now in full time patient care. Marsha is the office manager for the Melanesia Field Office and fills various general mission roles at Kudjip.
The McCoys have three grown children: Bill, Jr. (married to Erin Holly McCoy), Joshua and Jennifer. The McCoys have two grandchildren, Liam and Aubrey-Shay.
Meier, Erin – Papua New Guinea
I got saved towards the end of college, and was already in medical school before I realized God might have other plans for my life. I started praying and asking God if He wanted me to be a physician or not, and if so what kind. Through a mission trip, He revealed the kind of physician He wanted me to be, one who follows Christ in all things and who shares Christ with others. During my medical training, the call changed from being a physician to being a missionary physician.
After graduating from the Philadelphia College of Osteopathic Medicine in 2004, I moved to South Texas for my residency training. I graduated from the Valley Baptist Family Practice Residency Program in 2007 and then made my way to Papua New Guinea to work at Nazarene Hospital. I initially served through World Medical Mission's Post Residency Program, but as the end of my 2 years was up, I felt God calling me to stay. Since that time, I have joined the Nazarene Church and am now serving as a Nazarene Missionary to bring Help, Hope, and Healing to all those who come to Nazarene Hospital.
Miller, Justin, Stephanie and Amber Joy – Papua New Guinea
We are Justin, Stephanie, and Amber Joy Miller. We currently live near Nashville, TN, but will be relocating to Kudjip Nazarene Hospital Station in just a few weeks.
Justin will be working on the IT systems at Kudjip and across the Melanesia field. He has 15 years experience in Information Technology.
Stephanie was recently ordained in the Church of the Nazarene and will be initially assisting in the Missionary Kid school on station. Stephanie's education and experience is in the area of healthcare chaplaincy.
Amber Joy is 6 and will be starting first grade.
We discovered Kudjip when we began to express interest in mission work to our regional Nazarene Missions director. Justin visited Kudjip in the fall of 2016 and shortly after, we were invited to come for a two year commitment. We are excited to join the team at Kudjip and can't wait to see what's in store.
Myers, Jeffrey and Susan – Papua New Guinea
Jeffrey and Susan Myers are missionaries for the Church of the Nazarene assigned to Kudjip, Papua New Guinea (PNG), where they have served since June 2001.
Jeffrey graduated from Olivet Nazarene University in 1987 with a B.A. in communications. He is an Ordained Elder in the Church of the Nazarene. His early years in PNG were involved in developing Nazarene Radio Ministry which is now completely run by one of our National pastors. Jeff is currently serving as the Melanesia and South Pacific Fields Church Development Coordinator. His role focuses on further developing the church in PNG specifically working with our church leaders and assisting the Field Strategy Coordinator.
Susan graduated from Mount Vernon Nazarene University in 1989 with a B.A. in biology. She received her Medical degree from The Medical College of Ohio at Toledo in 1993 and completed a pediatric residency at Children's Hospital Medical Center of Akron in 1996. Susan serves as a physician at Nazarene Hospital in Kudjip. She cares for patients of all ages in the pediatric ward, outpatient department and the emergency room. She has specific interests in identifying and caring for children with various forms of heart disease and in diagnosing and treating the many women in PNG with cervical cancer.
Jeffrey and Susan have two children, Jessica and Ethan. Jessica is a student at Mount Vernon Nazarene University (MVNU). Ethan is nearing the end of his high school career and intends to join his sister at MVNU.
Radcliffe, James and Katherine – Papua New Guinea
James and Katherine are global missionaries with the Church of the Nazarene in Papua New Guinea.
James is a general surgeon. He received the B.A. degree from Mount Vernon Nazarene University in Mount Vernon, Ohio, in 1976. He graduated from Ohio State University Medical School in Columbus, Ohio, in 1979 and completed his residency in general surgery in 1984.
Katherine received the A.A. degree from Mount Vernon Nazarene University and the B.S. degree in medical dietetics from Ohio State University in 1977. Prior to their missionary assignment, James served in Guatemala and Katherine served in Belize with Youth in Mission in 1974. This is a program designed by the Church of the Nazarene to give students practical mission experience. The Radcliffes spent a short term in Papua New Guinea while James was in medical school. Both of these mission experiences were affirming of their call to missions as a career.
During their years of service, the Radcliffes have been involved in church work, women's and family ministries, in addition to James' work at the hospital in Papua New Guinea. The Radcliffes have six children: Benjamin, Rebekah, Timothy, Priscilla, Josiah, and Lydia.
Radcliffe, Ben and Katherine – Papua New Guinea
Ben and Katherine, along with their four children, Simeon, Matthias, Tabea and Naomi, serve at Kudjip Nazarene Hospital.
Ben is a general surgeon who has returned after growing up as a missionary kid at Kudjip. Ben's dad, Dr. Jim Radcliffe, has been a surgeon at Kudjip Nazarene Hospital for over 30 years.
Katherine is a family physician by training, but currently stays home to care for their children. The Radcliffe family is grateful the opportunity to serve the Lord through healthcare ministry at Kudjip.
Schmelzenbach, Harmon and Cindy, Field Strategy Coordinators
Born and raised in Africa, Harmon serves as the Field Strategy Coordinator for the Melanesia and South Pacific Fields of the Church of the Nazarene.
Cindy, born and raised in New Mexico, is his wife and partner in ministry, serving as Asia Pacific Regional Member Care and Development Coordinator.
They are passionate about Leadership Development and Holistic Health in Ministry. Harmon and Cindy have lived and worked in the South Pacific since 2000. They've been married 36 years and have two grown children, both married, and three grandchildren.
Melanesia/South Pacific is an exciting part of the world, spreading across the seven island nations of Papua New Guinea, Solomon Islands, Vanuatu, Fiji, Samoa, American Samoa and the Kingdom of Tonga. We look forward to sharing with you how your church is involved and what God is doing as He is blessing your efforts and answering your prayers in these remote places. We also look forward to hearing how God is working in your local mission field and how we can partner with you to bring glory to God in all the nations… for surely, there is no greater privilege!
Thompson, Jordan and Rachel – Papua New Guinea
We both grew up in Illinois and attended Olivet Nazarene University.
It's our great privilege to be serving God and His people at Kudjip Nazarene Hospital in Papua New Guinea (PNG).
We've lived in PNG since 2009 where Jordan is working as hospital maintenance supervisor and project manager.
Rachel is the Field Member Care and Development Coordinator, and stays at home with our two boys, Miles and Graham. Our prayer is that our lives would shine the light of Jesus and bring glory to Him!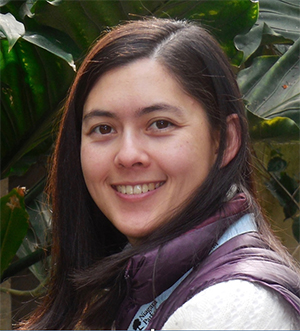 Uyeda, Sheryl – Papua New Guinea
I grew up in California and first become interested in medical missions during medical school at the Medical College of Wisconsin. During my surgery residency, God called me to serve him overseas. I learned about Kudjip Nazarene Hospital through Samaritan's Purse. I first visited for a few weeks in 2016, and have now returned for a 2-year term with Samaritan's Purse Post-Residency Program. I am currently one of three general surgeons here, along with veteran surgeon Dr. Jim Radcliffe and his son, Dr. Ben Radcliffe. I am thankful that God has called us to serve a very underserved population where Kudjip is the only hospital in the Jiwaka Province. I also thank him for equipping our team so we can share the hope and healing found only in Christ.
Woodley, Matt and Tammy – Papua New Guinea
Matt and Tammy Woodley will soon begin their career as missionaries as a doctor and teacher to Kudjip Hospital. The Woodleys have two kids, Elana (5) and MJ (3).
Matt attended Eastern Nazarene College, earning a degree in Physics. After ENC, Matt attended medical school at Kansas City University of Medicine and Biosciences and Emergency Medicine with residency at UPMC Hamot in Erie, PA.
Tammy (maiden name Andrews) also attended Eastern Nazarene College and earned a degree in Elementary Education. She has had a number of different positions involving work with children and currently holds a teaching certification in Elementary Education.
In November, they will begin a two-year assignment to Kudjip Nazarene Hospital in Papua New Guinea (PNG) as part of the Samaritan's Purse Post-Residency Program. They are very excited to begin their career as missionaries and look forward to sharing how God is working both in their family and around the world.